TNF (Tumor Necrosis Factor) is a cytokine that can directly kill tumor cells without obvious toxicity to normal cells. It is heat-resistant and inactivated at 70 ° C for 30 minutes. It is one of the strongest biologically active factors that have been found to kill tumors directly. Divided into two kinds of TNF-α, TNF-β, in addition to these two TNF family also found about 30 species.
Figure 1. Protein structure of TNF (TRAF2).
Introductions
Tumor necrosis factor (TNF) is a small molecule protein secreted by macrophages. The normal human serum is 4.3±2.8mg/L. TNF-α is mainly secreted by monocytes and macrophages; TNF-β is mainly secreted by activated T lymphocytes. TNF can stimulate the production of IL-1 in vivo and in vitro, is not heat-resistant, and is inactivated at 70 ° C for 30min. In 1975, Carswell et al. Found that after LPS injection in mice inoculated with BCC, the serum contained a factor that can kill certain tumor cells or cause tumor necrosis in the body, called tumor necrosis factor. In 1985, Shalaby named TNF produced by macrophages as TNF-α, and lymphotoxin (LT) produced by T lymphocytes as TNF-β and TNF-α.
Figure 2. TNF proteins.
Clinical significance
TNF is an antitumor drug and belongs to biological response modifiers. In recent years, TNF gene therapy has been used to start clinical verification of tumors such as melanoma. It is worth noting that TNF is related to the occurrence of certain clinical diseases.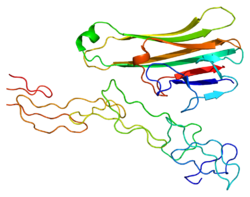 Figure 3. Tumor necrosis factor-beta (TNF-β).
1. Septic shock: It is currently believed that diffuse intravascular coagulation and toxic shock caused by gram-negative bacillus or meningococcus are caused by bacterial endotoxins that stimulate the body to produce excessive TNF-α, which causes fever and severe damage to the heart and adrenal glands. Respiratory cycle failure and even death, its TNF level is positively correlated with mortality. The pathogenesis may be that TNF stimulates endothelial cells, leading to inflammation, tissue damage and coagulation. TNF is also an important factor in acute liver necrosis. Viral fulminant liver failure induces TNF and IL-1 activity in peripheral blood cells, and is related to the severity of the disease. The mechanism of TNF-mediated endotoxin shock is not clear. It is believed that TNF can promote the production of prothrombin active substances and inhibit endothelial cell thrombin to regulate toxin shock. TNF antibodies (anti-sera or monoclonal antibodies) effectively prevent the occurrence of lethal endotoxin in mice, rabbits and baboons. The use of anti-TNF McAb for sepsis and septic shock has entered a phase III clinical trial, and an anti-TNF chimeric antibody has also begun a phase Ⅰ clinical trial for the treatment of bacterial infections.
2. Cachexia: TNF-α. Also known as cachexia or cachectin, can induce cachexia in the body.
3. The relationship between TNF and virus replication: TNF also has an anti-viral effect similar to IFN, preventing the early synthesis of viral proteins, thereby inhibiting the replication of the virus, and synergizing the anti-viral effect with TNF-α and TNF-γ; on the other hand, TNF Induces HIV-I gene expression in T cells. TNF- and HIV-infected CD4+ cells activate or induce NF-κB. NF-κB binds to the enhancer site of HIV's long terminal repeat (LTR), activates HIV genes, and may be related to the pathogenesis of AIDS. TNF in monocytes -α production increases, serum TNF-α levels increase.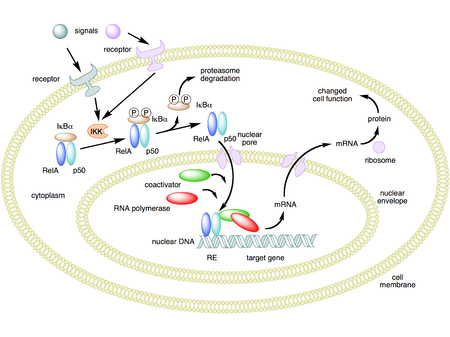 Figure 4. Mechanism of NF-κB action.
Application
1. TNF acts as an inflammatory mediator and can prevent the occurrence of endotoxin shock and DIC; it has anti-infective effects, inhibits virus replication and kills virus-infected cells; it has anti-tumor effects, kills and destroys tumor cells.
2. Normally no TNF activity can be detected in the serum of healthy people, but TNF can be detected in the serum of patients with chronic rheumatoid arthritis, multiple sclerosis malignancy and kidney transplantation. TNF increases during renal transplant rejection. High levels of TNF-α can be measured in disseminated intravascular coagulation and toxic shock caused by Gram-negative bacilli or Neisseria meningitidis. Viral fulminant liver failure induces increased TNF activity in peripheral blood cells, which is related to the degree of the disease. Mononuclear cell culture supernatants and serum levels of TNF-α increased in AIDS patients. Increased TNF levels in the blood are particularly valuable for the observation of certain infectious diseases such as meningococcal infections.
Reference:
Beutler B, et al.; Identity of tumour necrosis factor and the macrophage-secreted factor cachectin. Nature. 1985, 316 (6028): 552–4.