Home / Press Release / A Novel Biomarker for Metabolic Dysfunction and New Hope for Obesity—Protein PAR2
A Novel Biomarker for Metabolic Dysfunction and New Hope for Obesity—Protein PAR2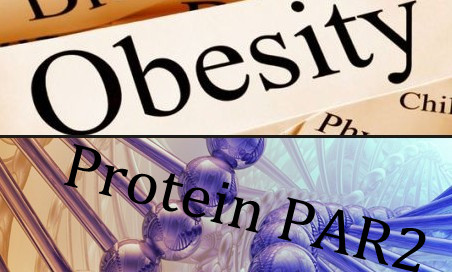 In studies, scientists confirmed that the amount of inflammatory protein PAR2 in overweight/obese humans' and mice's abdominal adipose tissue show abnormality and they found the common fatty acids in the diet will increase the expression of PAR2 on the surface of human immune cells. When high sugar and high fat diet-fed obese rats were given a new oral medication (that binds PAR2), inflammation caused by the protein can be suppressed, as well as other effects induced by high-fat and high-sugar diets, including obesity.
The new study assumes that drugs designed to block certain inflammatory proteins may be able to prevent and treat obesity which is the main risk factor for type 2 diabetes, heart disease, stroke, kidney failure and cancer. The small molecule PAR2 antagonist, selectively and orally administered and developed after the study, has shown proper features and functions in inflammatory cells and animal models.
They found that the expression of PAR2 increased in obese humans and rats; in vitro, the diet fatty acid palmitic acid stimulated the increased expression of PAR2 in human macrophages; while the PAR2 antagonist inhibited expression of PAR2 both in vivo and in vitro. Then antagonist was used as a tool to analyze the role of PAR2 activation in the regulation of human macrophages derived from monocytes (HMDM) for metabolic disorders.
This is the first study confirmed PAR2 antagonist can improve obesity, glucose homeostasis and obesity associated chronic inflammation. These results indicate that increased expression of PAR2 might be a novel biomarker for metabolic dysfunction and antagonist PAR2 can be used to treat metabolic disorders and obesity.
Article Link: A Novel Biomarker for Metabolic Dysfunction and New Hope for Obesity—Protein PAR2
Tags: PAR2, F2RL1, Cancer, Metabolism
Related Press Release :