Home / Press Release / Biomolecular Finding: New Toxic-antitoxic System May Help to Inspire New Antibiotics
Biomolecular Finding: New Toxic-antitoxic System May Help to Inspire New Antibiotics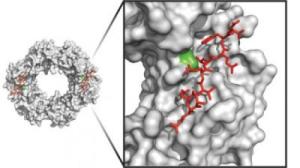 The picture shows DnaN in complex with a peptide from DNA polymerase III. The toxin SocB likely disrupts this complex to arrest DNA replication by binding a region of DnaN near the residue marked in green.
One of the reasons leading to tricky control of antibiotic-resistant bacteria is the shortage of new antibacterial mechanisms. Many regions in the world have ever been or being beset by the rise of serious antibiotic-resistant bacteria when new therapeutic strategies are needed.
In a recent published paper, researchers reported that they have found a new mechanism that helps to inhibit bacterial growth. It is known that bacterial growth is regulated by toxin-antitoxin (TA) systems in part. Each of the TA system encodes the toxin and the antitoxin protein which usually form a non-toxic complex. In certain conditions, the toxins might be freed with the degradation of antitoxin; as a result, the bacterial proliferation is suppressed. But the issue is that it is rarely known about how TA systems function.
During the process exploring the pathway of toxins produced by bacteria, the researchers find the novel toxin that hasn't been found previously or applied in clinical use. It is SocAB. It is different in that SocAB targets bacterial DNA replication machinery. The toxin, SocB, blocks DNA replication and inhibits bacterial growth by interacting with a protein called DnaN, a central hub in protein networks involved in multiple cellular processes. The researchers also identified the critical DnaN region.
By mimicking SocB targeting on the critical region on DnaN, the discovery inspires clues for the development of new antibiotics. Its example exerts the diversity of molecular mechanisms underlying TA system.
Article Link: Biomolecular Finding: New Toxic-antitoxic System May Help to Inspire New Antibiotics
Tags: SocAB, Toxin-antitoxin System, Antibiotic, Bacteria