Home / Press Release / Learn More about Protein Structure Evolution with "Ancient" Proteins
Learn More about Protein Structure Evolution with "Ancient" Proteins
Several months ago, researchers found something that will enlighten people's understanding on the course of protein structure evolution and give new ideas on the novel protein design in protein engineering and biotechnology.
Under the existing conditions, researchers usually only have the chance to explore current proteins or compare them between parallel times. But this time, the researchers studied the "fossil protein" in laboratory. They analyzed the X-ray crystal structures of "Precambrian proteins" that they gain during 2011 when they constructed a phylogenetic tree of protein sequences by analyzing the amino acid sequences of thioredoxins-proteins found in organisms from the three domains of life, including bacteria, archaea and eukaryotes. Using this phylogenetic tree, they were able to resurrect Precambrian proteins.
The researchers found that the present-day thioredoxin structures are remarkably similar to those that existed at a time close to the origin of life, even though their amino acid sequences are very different. But the modern proteins share much various structural diversity.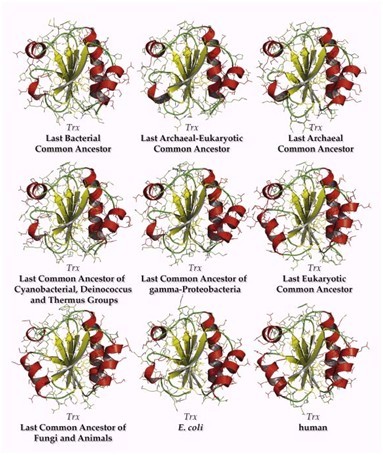 The finding suggests that there is little structural change even over a very long period with the intermittent new changes over short period.
Article Link: Learn More about Protein Structure Evolution with "Ancient" Proteins
Tags: Protein Structure, Bacteria, Crystallography
Related Press Release :