Home / Press Release / Scientists Successfully Decode the Structure of Protein LIMP-2
Scientists Successfully Decode the Structure of Protein LIMP-2
It was unknown for people the structure and functions of protein LIMP-2 during the past days. We only know it is both important for humans and animals and it was mostly found in the lysosomes of the cells where it ensures that a specific enzyme reaches them. Recently a Germany chemist reveals what the protein LIMP-2 looks like and other information.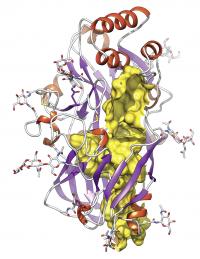 The new protein fold of LIMP-2 and the nanomicroscopically small transport tunnel: at its head (the red helices), this protein can bind enzymes and viruses. Through the study, scientists found how the ligands bind to the head and lipids are transported through the tunnel.
Proteins form a twisted three-dimensional structure of helices and sheets as the above picture shows. With these folds, protein has the ability to affect biological cells. During the study, researchers crystallized the protein to ascertain its crystalline structure. It was during this process that they found a special protein fold that has never been described so far. The protein has a 'head' consisting of several helices on which the enzyme docks and it has a tunnel where it transports substances through membranes, lipids away from lysosome for example.
By finding this, biomedical scientists found its value of developing new treatments.
Article Link: Scientists Successfully Decode the Structure of Protein LIMP-2
Tags: Protein Structure, Enzymes
Related Press Release :