What is Akt?
Figure 1. Akt singaling pathway. (From Biomart)
As a proto-oncogene, threonine kinase Akt has become a major focus of attention in the medical community because it plays an important role in regulating various cell functions (including metabolism, growth, proliferation, survival, transcription and protein synthesis) effect. Factors that can activate the amplification of the Akt signaling cascade, including receptor tyrosine kinases, integrins, B cell and T cell receptors, cytokine receptors, G protein-coupled receptors, and other phosphatidylinositol three Kinase (PI3K) induces stimulation of phosphatidylinositol triphosphate (3,4,5) phosphatidylinositol (PIP3) production. These lipids can be used as docking sites for protein membranes with a Plexic substrate protein homology (PH) domain, including Akt and its upstream activator PDK1. PDK1 on the membrane phosphorylates it at the threonine 308 position of AKt, resulting in partial activation of Akt. The serine 473 site is phosphorylated by mTORC2, which can stimulate the full enzyme activity of Akt. Akt can be dephosphorylated by protein phosphatase 2A (PP2A) and PH-domain-rich leucine-repeat-containing protein phosphatase (PHLPP1/2). In addition, the tumor suppressor gene phosphatase and tensin homologous protein (PTEN) also inhibit Akt activity by dephosphorylating PIP3.

Figure 2. Structure of serine/threonine protein kinase 4. (From Dreamstime)
AKT background
AKT is a class of serine / threonine kinases of the AGC family, which mainly has three domains: PH domain (having affinity for PIP3, so it is essential for binding to the cell membrane); catalytic domain; regulatory domain. Thr308 and Ser473 are located in the latter two domains, respectively. PH and catalytic domains are relatively conservative among different Akt isomers. There are three main isomers of AKT in mammals: Akt1,2,3. Akt1 is widely expressed in tissues, and Akt2 is mainly expressed in muscle and fat cells. Akt3 is mainly expressed in the testes and brain. With the deepening of the research, a truncated form of Akt3- (γ1) was found in the hydrophobic domain. Akt has many phosphorylated substrates. Based on this conservatism, the use of such Motif antibodies can help systematically study Akt downstream signaling pathways.
Related proteins or genes
Also known as PKB (protein kinase B). It is a serine / threonine-specific protein kinase that plays a key role in various cell growth processes, such as glucose metabolism, apoptosis, cell proliferation, transcription, and cell migration. Ser473 of Akt can be phosphorylated by PDK1. PKB has high homology with PKA and PKC. This kinase has been proved to be the encoded product of the retrovirus an gene v-akt, so it is also called Akt.
Mammalian target of rapamycin. mTOR combines with other proteins to form two different protein complexes, mTOR complex 1 (mTORC1,) and mTOR complex 2 (mTORC2), which regulate different cellular processes. mTORC1 is composed of mTOR, mTOR regulation-related proteins Raptor, MLST8, and non-core components PRAS40 and DEPTOR. mTORC2 is composed of mTOR, mTOR paclicin-insensitive partner RICTOR, MLST8 and mSIN1. The two complexes are located in different subcellular compartments, affecting their activation and function.
GSK-3
Glycogen synthase kinase 3, glycogen synthase 3. Is a serine / threonine protein kinase. In mammals, GSK-3 is encoded by two known genes, GSK-3α (GSK3A) and GSK-3β (GSK3B). GSK-3 is involved in many diseases, including type 2 diabetes (type 2 diabetes), Alzheimer's disease, inflammation, cancer, and bipolar disorder. GSK-3 functions by phosphorylating serine or threonine residues on its target substrate.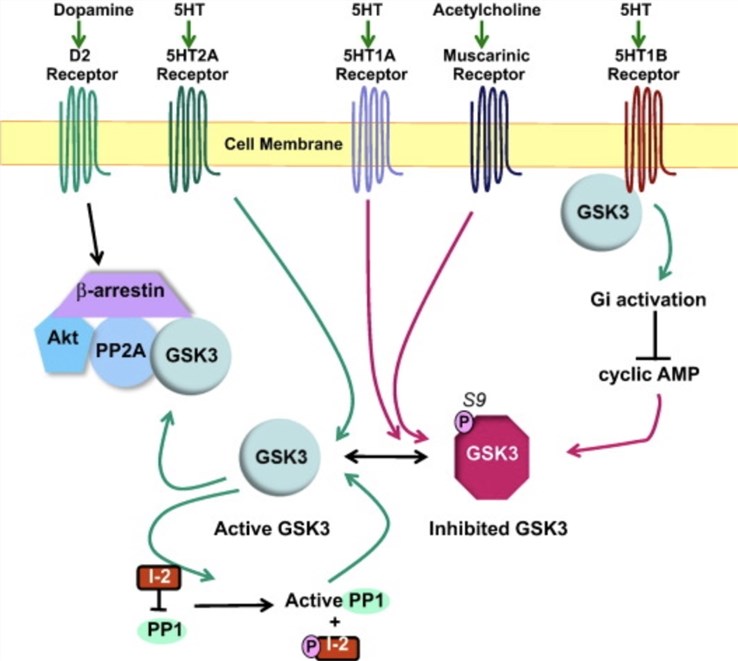 Figure 3. Glycogen synthase kinase-3 (GSK3). (Beurel E, et al. 2015)
PDK-1
3-phosphoinositide dependent protein kinase-1. It is crucial for activating AKT / PKB and many other AGC kinases (including PKC, S6K, SGK).
Casein kinase 2(CK2) is a serine / threonine selective protein kinase, which is a tetramer of two α subunits and two β subunits. CK2 is involved in cell cycle control, DNA repair, regulation of circadian rhythm and other cellular processes.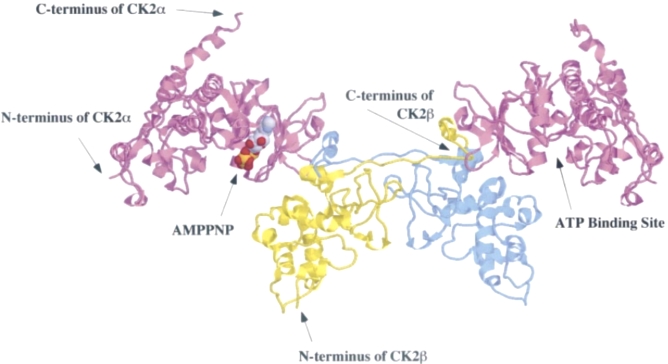 Figure 4.Ribbon structure of CK2 tetramer containing two α and two β subunits. (From Wikipedia)
DNA-PK
DNA-dependent protein kinase, DNA-dependent protein kinase. DNA-PK is a silk / threonine protein kinase composed of 3 subunits, which belongs to the PIKK family member and a molecular sensor for DNA damage. It participates in NHEJ (non-homologous end joining) used for DSB (DNA double strand break) repair and V (D) J recombination.
eNOS
Endothelin nictric oxide synthase, endothelial nitric oxide synthase. There are three subtypes of nitric oxide synthase, including neural nitric oxide synthase (nNOS), inducible nitric oxide synthase (iNOS) and endothelial nitric oxide synthase (eNOS). eNOS is a calcium-dependent protease that maintains the physiological functions of blood vessels such as vascular tone and sphincter relaxation. eNOS is one of the complete signs of endothelial function. eNOS catalyzes the synthesis of trace amounts of NO, which can keep the surface of endothelial cells smooth and complete and prevent thrombosis.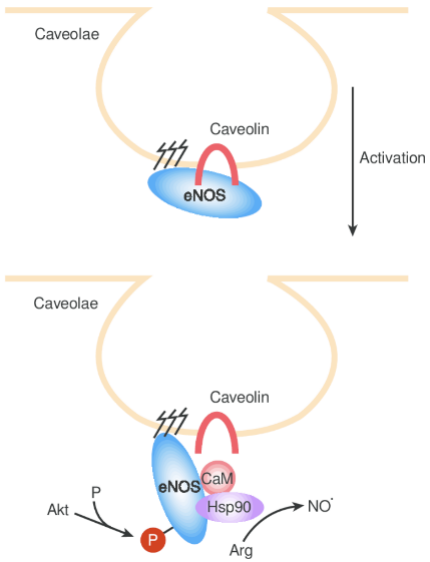 Figure 5. Regulation of eNOS in caveolae. Myristoylation and palmitoylation (jagged lines) target eNOS to plasma membrane caveolae. Interaction with caveolin inhibits eNOS activity. Endothelial cell stimuli such as shear stress, recruit Hsp90 and activate eNOS by recruiting calcium and calmodulin (CaM). Phosphorylation of eNOS by Akt also increases activity. (Bredt DS. 2010)
References
Beurel E, Grieco SF, Jope RS. Glycogen synthase kinase-3 (GSK3): regulation, actions, and diseases. Pharmacology & therapeutics, 2015, 148: 114-131
Bredt DS. Nitric oxide signaling specificity—the heart of the problem. Journal of cell science, 2003, 116(1): 9-15.