Neurotransmitter Transporters Proteins Background
What is Neurotransmitter Transporters Protein?
Neurotransmitter transporters proteins are a group of membrane transport proteins that carry neurotransmitters across biological membranes to specific cellular and subcellular locations. More than 20 members have been identified in the neurotransmitter transporter family. The neurotransmitter transporters proteins belong to three families of intrinsic membrane proteins (Figure 1). The energy for transport is often against the neurotransmitter concentration gradient, originate from the cotransport or counter transport of inorganic ions.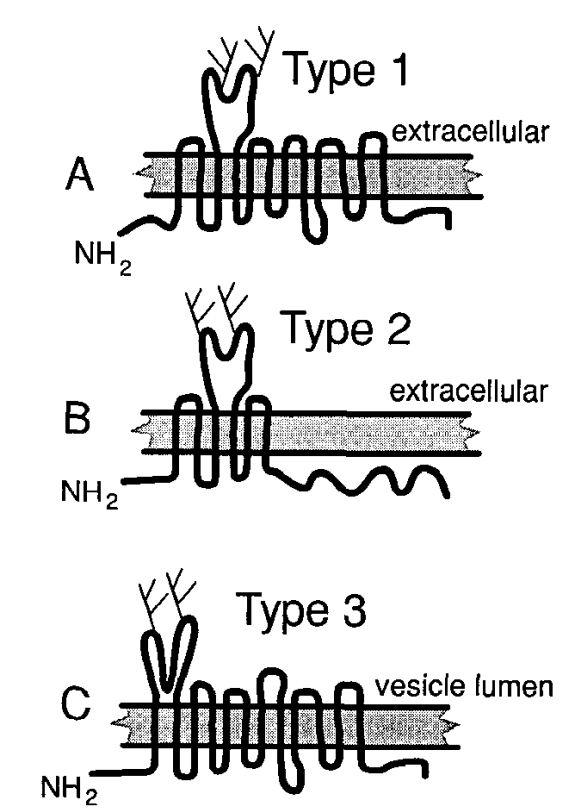 Figure 1. Three types of neurotransmitter transporters. (A) Type1, plasma membrane Na+-coupled transporters. (B) Type2, the plasma membrane glutamate transporter family. (C) Type3, the vesicular H-coupled monoamine transporters.
Classification of Neurotransmitter Transporters
The neurotransmitter transporters belonging to the solute carrier 6 (SLC6 (among the largest SLC families)) gene family (also called the neurotransmitter-sodium-symporter family or Na+/Cl- dependent transporters composed of a group of nine sodium- and chloride-dependent plasma membrane transporters for the monoamine neurotransmitters serotonin (5-hydroxytryptamine), dopamine, and norepinephrine, and the amino acid neurotransmitters GABA and glycine. The SLC6 genes are widely expressed in the mammalian brain and they play a crucial role in regulating neurotransmitter signaling and homeostasis by mediating uptake of released neurotransmitters from the extracellular space into neurons and glial cells. Another important type of neurotransmitter transporter is the vesicle neurotransmitter transporter, which is divided into three families based on amino acid sequence, substrate specificity, inhibitors, and energetics.These are SLC17, SLC18, and SLC32 and comprise proteins which are essential for the accumulation of anionic, cationic, and neutral transmitters, respectively. The SLC17 anion transporter family mediates the uptake of glutamate, aspartate, and nucleotides. The SLC17 family includes three vesicular glutamate transporters (VGLUT1–3), the vesicular excitatory amino acid transporter (VEAT), and the vesicular nucleotide transporter (VNUT). SLC18 family transporters are involved in the accumulation of cationic neurotransmitters. This family includes vesicular monoamine transporters (VMAT1 and VMAT2) and the vesicular acetylcholine transporter (VAChT). SLC32 consists of a single member, vesicular GABA transporter (VGAT). VGAT transports GABA and glycine, which are inhibitory neurotransmitters.
Function of Neurotransmitter Transporters
In neurons, neurotransmitters often function within chemical synapses by transmitting information across the synaptic cleft. Neurotransmitters accumulate in synaptic vesicles and are released by Ca2+ dependent exocytosis. The released neurotransmitter binds to a specific receptor on the target cytoplasmic membrane to transmit signals. Vesicular neurotransmitter transporters are responsible for the accumulation of neurotransmitters in synaptic vesicles, so they are important components of chemical transmission. Neurotransmitter transporters are major determinants in regulation of synaptic signaling by mediating the rapid removal of neurotransmitters from the synapses.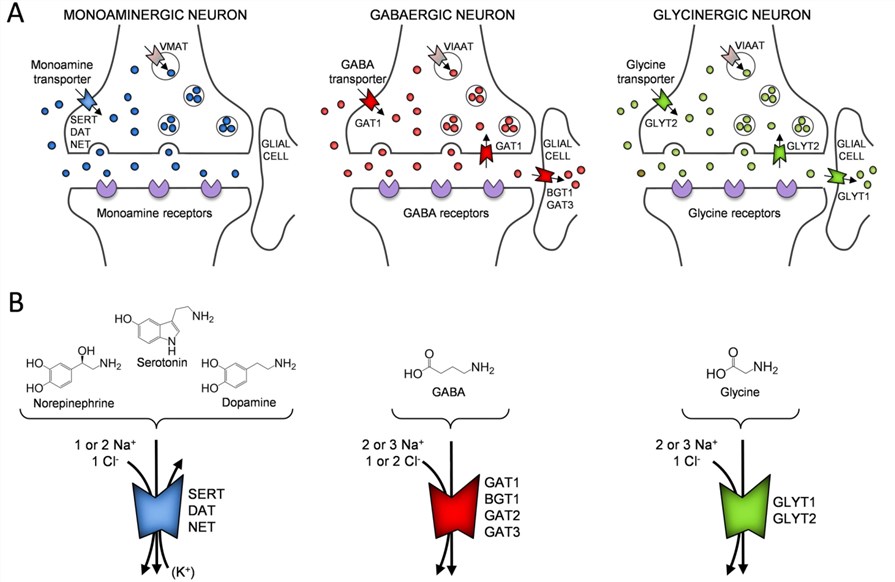 Figure 2. Role of neurotransmitter transporters in synaptic transmission. (A) A, Monoaminergic, GABAergic, and glycinergic synaptic terminals. In the presynaptic terminals of monoaminergic neurons, vesicular monoamine transporters (VMATs) sequester serotonin, dopamine, and norepinephrine into synaptic vesicles, and the vesicular inhibitory amino acid transporters (VIAATs) sequester GABA and glycine into synaptic vesicles in GABAergic and glycinergic neurons, respectively. After release of vesicular, neurotransmitters exert their effects on post- and presynaptic receptors. Neurotransmitter transporter is the key to termination of neurotransmitter transmission. It reabsorbs neurotransmitters from synaptic space to presynaptic terminals or glial cells, and maintains low-intensity extracellular neurotransmitter concentration. The monoamine transporters (SERT, NET, and DAT) are located outside the synapse. In addition to glial cells, GAT and GLYT are located at synapses and extrasynaptic sites. (B) Structures of the endogenous substrates for neurotransmitter transporters. (Abbreviations: DAT, dopamine transporter; GABA, -aminobutyric acid; GAT, γ-aminobutyric acid transporter; GLYT, glycine transporter; NET, norepinephrine transporter; SERT, serotonin transporter).
The Significance of Neurotransmitter Transporters in drug discovery
Neurotransmitter Transporters are targets of a variety of drugs for the treatment of mental disorders, including severe depression, anxiety, attention deficit hyperactivity and epilepsy. In addition, psychostimulants, such as cocaine and amphetamines, have targeted neurotransmitter transporters as their main targets, particularly the monoamine transporters. Norepinephrine and serotonin reuptake transporters are key targets for antidepressants. Clinically effective antidepressants include those that are selective for NE or serotonin uptake, as well as compounds that have mixed effects. Dopamine transporters play a key role in mediating the effects of cocaine and amphetamine, as well as conferring selectivity to dopamine neurotoxins.
The neurotransmitter transporter family provides many valuable targets for psychopharmacology. Amino acid neurotransmitter transporters lead another potential area of future CNS (central nervous system) drug discovery, and only one useful drug has been approved for use in humans, namely, the GABA uptake inhibitor tiagabine. Inhibiting the inactivation of L-glutamic acid after release from the central nervous system is dangerous because inhibitors of the EAAT family may cause seizures or act as a convulsant. Hopefully, the research in future may discover more CNS drugs.
References
Lester H A, Mager S, Quick M W, et al. Permeation properties of neurotransmitter transporters[J]. Annual Review of Pharmacology and Toxicology, 1994, 34(1):219-249.
Iversen, L. Neurotransmitter transporters: fruitful targets for CNS drug discovery[J]. Mol Psychiatry, 2000, 5(4):357-362.
Omote H, Moriyama Y. Vesicular neurotransmitter transporters: an approach for studying transporters with purified proteins[J]. Physiology, 2013, 28(1):39-50.
Kristensen A S, Andersen J, Jorgensen T N, et al. SLC6 Neurotransmitter transporters: structure, function, and regulation[J]. Pharmacological Reviews, 2011, 63(3):585-640.