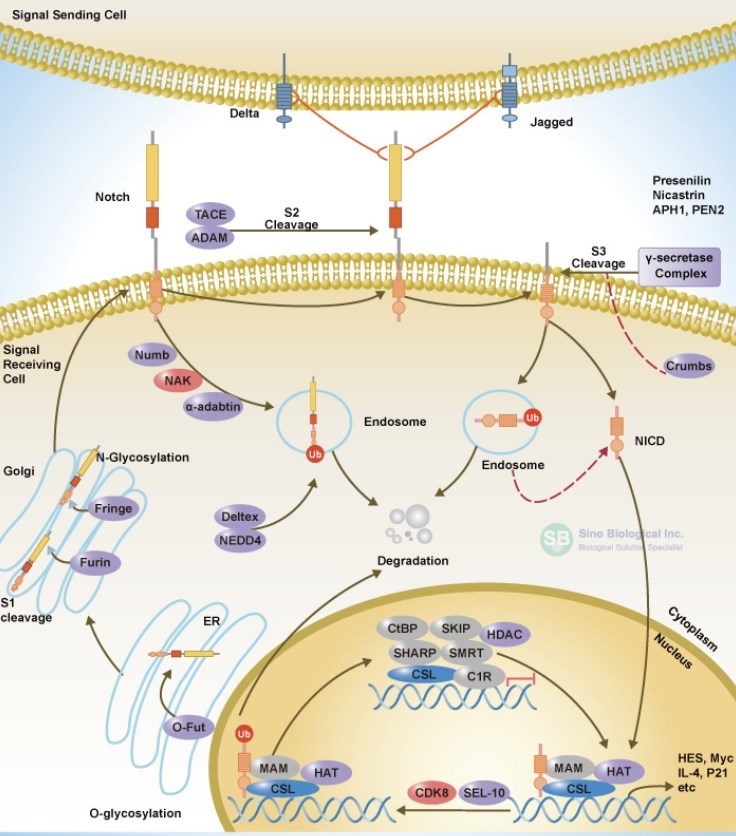 Figure 1. The Notch signaling pathway is a highly conserved cell signaling system present in most multicellular organisms. Notch signaling plays a pivotal role in the regulation of many fundamental cellular processes such as proliferation, stem cell maintenance and differentiation during embryonic and adult development. (From sinobiological)
Basic information of Notch channel
The Notch gene encodes a class of highly conserved cell surface receptors that regulate the development of various biological cells from sea urchins to humans. Notch signal affects multiple processes of normal cell morphogenesis, including the differentiation of multipotent progenitor cells, apoptosis, cell proliferation, and the formation of cell boundaries. Phenotype changes caused by Notch gene site mutations indicate the diversity of Notch signaling effects.
Notch signaling pathways are widespread in vertebrates and non-vertebrates, and are highly conservative in evolution. They regulate the differentiation and development of cells, tissues, and organs through the interaction between adjacent cells.
In 1917, Morgan and colleagues discovered the Notch gene in mutated fruit flies. The partial function of this gene caused the notch (Notch) at the edge of the wing of the fruit fly. Mammals have 4 Notch receptors (Notch1-4) and 5 Notch ligands (Delta-like 1, 3, 4, Jagged1 and Jagged2). The Notch signal is generated by the interaction of the Notch ligand of the adjacent cell with the receptor. The Notch protein undergoes three shears and is released from the intracellular segment (NICD) into the cytoplasm, and enters the nucleus to combine with the transcription factor CSL to form NICD / The CSL transcriptional activation complex activates target genes of the transcriptional repressor family such as HES, HEY, HERP, and plays a biological role.

Figure 2. The Notch pathway is the most basic signal transduction system, allowing adjacent cells to regulate each other and exert their proper developmental role. (From liankebio) Notch-mediated ortho-secretory signals between adjacent cells. (From wikipedia)
The composition and protein of Notch pathway
The Notch gene encodes a membrane protein receptor, which consists of three parts: Notch receptor, Notch ligand (DSL protein) and intracellular effector molecule (CSL-DNA binding protein).
Notch receptors
Notch receptors: 1.2.3.4 species of Notch; their structure: three parts: extracellular domain (NEC), transmembrane domain (TM) and intracellular domain (NICD / ICN); <1> extracellular domain (NEC): Its domain contains 29-36 tandem epidermal growth factor (EGF) sequences and 3 cysteine-rich Lin Notch repeats (LNR). Their main functions are Notch and start Notch. <2> Transmembrane region (TM): The single-pore transmembrane region has a cleavage site (S3 site) between glycine-1743 and valine-1744 in the transmembrane region. Through hydrolysis of Presenilin (mutated presenilin) ​​protein, Notch breaks at the S3 site, generating an intracellular domain ICN and a short transmembrane fragment. <3> Intracellular domain (NICD): The intracellular domain (Notch intraCellular domain, Notch IC) mainly contains 5 parts: ① 1 RAM (RBP2J kappa associated molecular) area, which can be combined with DNA binding protein (C2 promoter binding protein, CBF) ) Binding; ② 6 ankyrin repeats (ankyrin repeats, ANK) are enhancers that initiate Notch and can mediate the interaction between Notch and other proteins; ③ 2 nuclear localization signals (NLS); ④ 1 Translational active domain (TAD); 1 PEST (Proline, P (proline); Glutamate, E (glutamic acid); Serine, S (serine); Threonine, T (threonine) The area is related to the degradation of Notch receptor.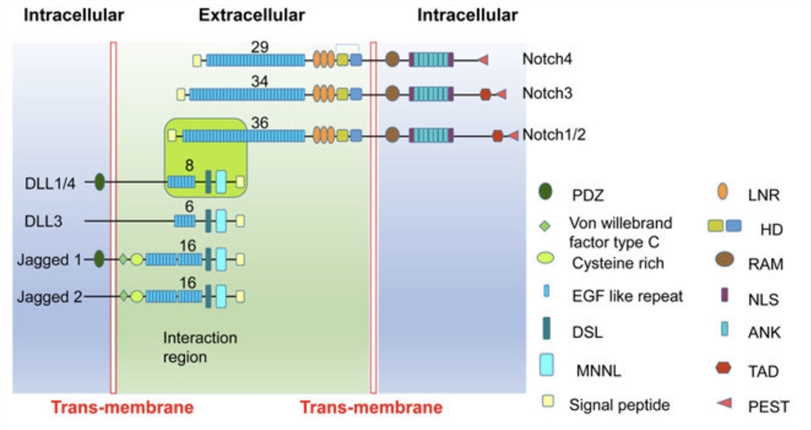 Figure 3. Biochemistry of Notch ligands and Notch receptors There are five Notch ligands (Jagged 1, Jagged2, DLL1, DLL3 and DLL4) and four Notch receptors (Notch 1, 2, 3 and 4). (Meng L, et al. 2016)
Notch ligand
Notch ligand: also known as DSL protein; respectively: Delta like (DLL1, DLL3, DLL4), Jagged1 and Jagged 2 (so far). It is a transmembrane protein with a conserved molecular structure. It is an abbreviation for Delta / Serrate / Lag2. It contains an amino terminus, and the extracellular region contains varying amounts of EGF-R and DSL domains (rich in cysteine Acid) binding site to Notch receptor. (3) Intracellular effector molecule: CSL DNA binding protein (CBFl / Suppresor of Hairless / Lag1); CSL protein: CBF-1 (C-promoter binding factor-1) is called RBP-JK (recombination signal binding in mammals) protein-Jk) is a transcriptional repressor, a transcription regulator that plays a key role in the Notch signaling pathway. It recognizes and binds to a specific DNA sequence (GTGGGAA), which is located on the promoter of Notch-induced genes.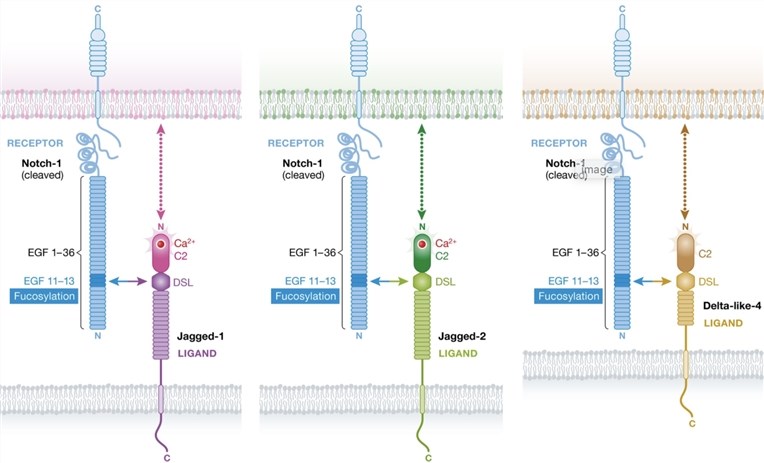 Figure 4. Interaction between the C2 domain of Notch ligands and the phospholipid membrane modulates Notch signaling. (Ben‐Zion Shilo, et al. 2017)
The intracellular domain of Notch (the Intracel | uIar Domain of Notch, ICN) can interact with CBF-1 through its RAM and ANK domains, so that the transcriptional activation, that is, the combination of ICN replaces the SMRT co-obstacle and the binding HDAC enzyme, thereby releasing transcriptional repression. In the absence of NCD (ICN), Su (H) / CBFI can suppress gene transcription by recruiting repressor proteins SMRT and histone deacetylase (HDAC).
Reference
Meng L, Hu S, Wang J, et al. DLL4+ dendritic cells: Key regulators of Notch Signaling in effector T cell responses. Pharmacological research, 2016, 113: 449-457.