Home / Press Release / A Potential Way to Measure Injury with the Help of Protein Xin
A Potential Way to Measure Injury with the Help of Protein Xin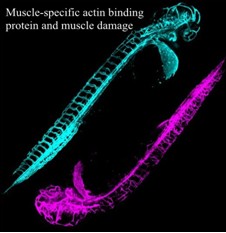 In a recent study, scientists found a protein that can only be detected after muscle damage due to kinds of reasons, for example trauma, intensive exercise injury and disease. The protein is associated with the degree of damage. The protein is Xin, a muscle-specific actin binding protein. However, for many years, its role and regulation within skeletal muscle is not well understood.
In 2007, some scientists identified that Xin is expressed within muscle satellite cells and newly regenerated skeletal muscle fibers.
During the new study, scientists found that in healthy subjects, they can't trace the sign of protein Xin. But when the targeted muscle was damaged, scientists successfully detect Xin and seem to be highly correlated with the amount of muscle damage. Xin is treated as a muscle damage biomarker.
With this clue, scientists concluded that Xin might be applied for the measurement of animal and human injury.
Article Link: A Potential Way to Measure Injury with the Help of Protein Xin
Tags: Protein, Xin