Home / Press Release / Angewandte Chemie: The New Method to Make Therapeutic Proteins Last Longer
Angewandte Chemie: The New Method to Make Therapeutic Proteins Last Longer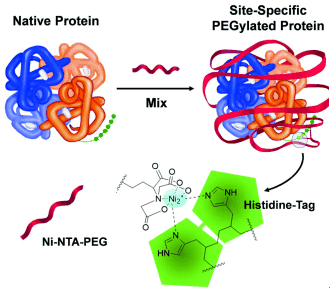 Nowadays therapeutic proteins are widely used to relieve sufferers from many conditions, such as cancers (Monoclonal antibodies, Interferons), heart disease and stroke (Enzymes, Blood factors), diabetes (Insulin), anaemia (Erythropoietin), haemophilia (Blood clotting factors) etc. and they show promising potential.
However, they could be broken down or metabolized before they reach the target. In order to reach or last the effect, this issue that could become a big problem for scientists' next goal should be solved. Now there is a simple method that can validate protein drugs, according to the Angewandte Chemie journal.
The studies were conducted on animal models. With the method, the half-life of the TRIAL protein drug was extendedby attaching a molecule of polyethylene glycol (PEG) to certain sites without affecting its beneficial activity.
As described in the abstract, PEGylation of proteins through complementary interactions between a His-tag and a Ni2+ complex of nitrilotriacetic acid (NTA, see picture), a well-established practice in protein research, was used to improve the half-life of therapeutic proteins in the blood following systemic administration in?vivo. Animal models show that this site-specific modification improves the efficacy of modified TRAIL proteins.
The new method could be used to prolong the research process so as to have better observation or reach a special purpose, as well as to screen and validate drugs.
About Therapeutic Proteins Products
We are offering a wide range of Therapeutic Proteins to achieve the highest quality of researchers' studies, with different host sources, including microorganisms (yeast, bacteria), plants and mammalian cells. We also provide synthetic polymer PEG modification and bioconjugation services by site specific ligation of polyethylene glycol to peptide/proteins, oligonucleotides, antibodies, lectins, enzymes, toxins, drugs or other small molecules as delivery technology in variety of applications.
Article Link: Angewandte Chemie: The New Method to Make Therapeutic Proteins Last Longer
Tags: Therapeutic Proteins, PEGylation, Monoclonal antibodies, Enzymes
Related Press Release :