Home / Events / Immunocore Cooperates with GlaxoSmithKline to Target on Cancer and Viral Disease
Immunocore Cooperates with GlaxoSmithKline to Target on Cancer and Viral Disease
On July 9, 2013, Immunocore announced that it has entered into a partnership with GlaxoSmithKline for multiple novel targets after signing the research and licensing agreement to discover and develop novel biological drugs—Immune mobilising mTCR Against Cancer (ImmTACs) in earlier times.
Under the terms of agreement, Immunocore will use its antibody-based technologies and take full charge of the pre-clinical development and for the initial clinical trials in patients, and GlaxoSmithKline will take on the left development and commercialization of the products.
ImmTACs utilizes the potential of T Cell Receptors (TCRs) to recognize intracellular changes that occur during cancer or viral infection, while conventional antibody-based therapies only recognise changes on the surface of cells.
One of the ImmTAC drugs, IMCgp100 for the treatment of melanoma has already been put into Phase I/II clinical trials in the UK and USA.
In late June, GlaxoSmithKline also signed a similar agreement with Genentech based on the T cell receptor technology.
About ImmTAC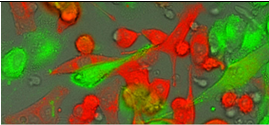 T Cell Receptors naturally recognise diseased cells. Immunocore's competitive advantage is its ability to engineer high affinity T Cell Receptors and link them to an antibody fragmen(scFv), anti-CD3, which can activate the immune system to kill the targeted cancer or viral cells. These bifunctional molecules, called ImmTACS, have the potential to be very potent anti-cancer or anti-viral agents.
Article Link: Immunocore Cooperates with GlaxoSmithKline to Target on Cancer and Viral Disease
Tags: Cancer, Viral Infection, Antibody Technology, Anti-CD30 scFv
Related Events :