Home / Press Release / Lipid-based Protein Immobilization—A Novel Membrane Protein Research Tool
Lipid-based Protein Immobilization—A Novel Membrane Protein Research Tool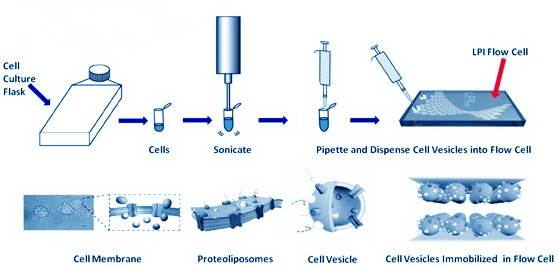 Lipid-based Protein Immobilization, or LPI, allows for immobilization and work-up of intact, native membrane proteins.
Lipid-based Protein Immobilization allows immobilization of cell vesicles with intact, conformationally correct membrane proteins in their native state. Because the membranes are immobilized as cell vesicles in a flow cell, one can add multiple proteases in a serial, time controlled format to interact with surface peptides. The flow cell is then eluted of free peptides and measured with mass spectrometry or other detection technique. The LPI can be used for a number of applications, including membrane profiling, target identification, glycosylation studies, epitope identification, chiral separation, peptide mapping, drug screening, preconcentration and so on. (As the picture shows)
Creative BioMart provides researchers with novel Lipid-based Protein Immobilization, membrane protein sample preparation and discovery tools with several beneficial features, such as a detergent-free environment, easy handling, high yield and high sensitivity.
The Lipid-based Protein Immobilization service is based on the use of Creative BioMart's proprietary technology and LiPi™ FlowCell. The novel membrane protein technology can be extensively applied in Ligand binding studies, Antigen epitope identification, Quantitative proteomics, Protein sequencing with multi-step digestion, Easy and efficient membrane protein profiling as well as above fields.
In addition to this, other products are also in development. Let us know if you want to learn our continuous perfections.
Article Link: Lipid-based Protein Immobilization —A Novel Membrane Protein Research Tool
Tags: Lipid-based Protein Immobilization, Membrane Protein
Related Press Release :