Home / Press Release / PNAS: Scientists Developed New Approach to Resolve Protein Structure
PNAS: Scientists Developed New Approach to Resolve Protein Structure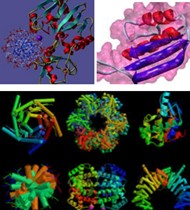 Recently scientists developed a new strategy that can be used to study protein structures that can't be realized previously. The new strategy combined computational modeling and experimental physicochemical techniques.
The results were published on the journal of Proceedings of the National Academy of Sciences (PNAS).
Proteins are often needed to fold specific structures to play some roles. Thus the understanding of protein structures becomes an important branch as researchers can make many complex shapes and each shape can have different functions.
The first author of this researcher said, "By knowing the shape of proteins, we can perform any analysis depending how it is folded." The new technique means a lot. The following are three implications:
1. Researchers have described the chemical mechanisms by which compounds such as urea unfold proteins. "This was a debate that started in the 60s.
2. A new strategy has been developed that will allow scientists to decipher the conformation of the Intrinsically Disordered Proteins (IDP). IDPs are a group of proteins without a rigid structure that comprise a large part of the proteome; however, little is known about them.
3. Scientists have identified the first steps in protein folding.
Their finding was an advance in protein structure research. It could be widely used later considering the multi-functional natures of many proteins.
Article Link: PNAS: Scientists Developed New Approach to Resolve Protein Structure
Tags: PNAS, Protein Structure, New Technique
Related Press Release :