Home / Press Release / Researchers Developed a Model That Explains How Nucleosomes Recognize Protein
Researchers Developed a Model That Explains How Nucleosomes Recognize Protein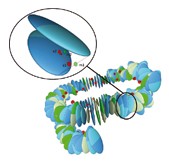 The pictures shows the model how proteins move along DNA
Most of the DNA in evolved organisms is wrapped around proteins, forming the basic unit of DNA packaging, nucleosomes as the picture shows. But how exactly these nucleosomes are recognized and read by protein is unclear. In order to find answers, some researchers developed a model that showed how proteins move along DNA.
The researchers did adopt molecular dynamics simulations regarding to its much complexity. Instead, they developed a basic computer model of the nucleosome in which DNA is described by a sequence of rigid blocks representing the base pairs. By introducing flexible binding sites of the DNA to the protein core, it provides a more physical representation of the system. It also makes it possible to identify the sliding mechanism of nucleosomes along the DNA.
The principle locates in that a small defect in the form of a missing or extra base pair enters the DNA section wrapped around a nucleosome. Then the defect diffuse through the wrapped DNA and once it leaves the other end of the wrapped section, the nucleosome moves by the extra or missing length that the defect carried with it.
This model also offers confirmation for "Second Genetic Code" which was first brought up in 2006. This would consist of a mechanical code written down within the base pair sequence and multiplexed with the traditional genetic code.
Article Link: Researchers Developed a Model That Explains How Nucleosomes Recognize Protein
Tags: Nucleosomes, Protein Recognition, New Model