Home / Events / The Brief Inventory of Fines Multinational Pharmaceutical Companies Paid
The Brief Inventory of Fines Multinational Pharmaceutical Companies Paid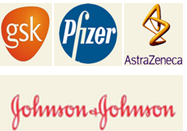 Following manipulating articles in Journals, GlaxoSmithKline (GSK) entered another trouble time in China. The Public Security Department have begun to investigate its suspicion of commercial bribery, according to Beijing News report, as of July 14, at least four travel agencies were involved, some government officials and hospitals were also involved.
In addition to GSK, however, many other well-known multinational companies have alleged commercial bribery in China, such as Pfizer.
Here the report makes a brief inventory of such events:
GSK: $ 3 billion
In July, 2012, GSK confessed the three criminal charges to U.S. Justice Department: illegally market paroxetine and bupropion, and didn't report the safety data of Avandia for the treatment of diabetes. This fined GSK $ 3billion, becoming the most expensive penalty after Pfizer in 2009.
Pfizer: $ 2.3 billion
In September, 2009, Pfizer agreed to pay $ 2.3billion penalty for its improper promotion of 13 drugs.
AstraZeneca: $ 0.52 billion
In May, 2010, U.S. Justice Department announced that AstraZeneca has confessed its illegal marketing of Sirui Kang and agreed to pay $ 0.52 billion.
Johnson & Johnson : $ 70 million
In April, 2011, Johnson & Johnson was sued for its illegal sales contract by bribes, kickbacks and other means abroad. For this, Johnson & Johnson agreed to pay $ 70 million as penalty.
Article Link: The Brief Inventory of Fines Multinational Pharmaceutical Companies Paid
Tags: Pharmaceutical Companies