Fas-associating protein with a novel death domain, FADD, also known as Mort1, is a death domain protein that specifically binds to the cytoplasmic region of Fas, hence the name Fas-associated with death domain protein, which is a Fas-related protein with a dead functional region. When Fas binds to the corresponding ligand FasL (CD95L), the Fas receptor is trimeric and activated. The activated receptor binds to FADD and interacts with caspase-8 The latter activates to form a death-inducing signal complex, and then activates a series of Caspase-1, 3, 7 and so on, and promotes the apoptosis of cells in which the Fas protein is located. Its role has attracted much attention in tumor research.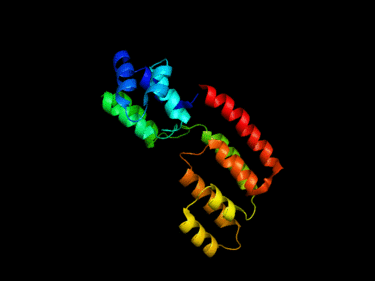 Figure 1. Protein structure of FADD protein.
Introductions
The study found that, in addition to regulating PKC functions, FADD is also involved in a variety of non-apoptotic intracellular processes. Generally speaking, newly synthesized PKC generally needs to undergo the programmed phosphorylation process of Activation-loop (A-loop), Turn motif (TM), and hydrophobic motif (HM) It matures and obtains further activated functions. In this study, Professor Hua Zichun's group at Nanjing University found that FADD is involved in regulating protein kinase C inactivation. Related research results were published in The Journal of Biological Chemistry on May 11. In the course of the study, a phosphoryl simulated mutation (S191D) of FADD promoted the dephosphorylation of TM and HM, which indicates that the phosphorylation of S191 negatively regulates FADD. PP2A is a major phosphatase involved in cPKC dephosphorylation. Studies have found that FADD can interact with PP2A, and that FADD defects disrupt PP2A-mediated dephosphorylation of cPKC. Further research shows that FADD deficiency leads to enhanced stability and activity of cPKC, which in turn promotes cytoskeleton remodeling, movement, and chemotaxis. Collectively, these results indicate a new function of FADD: during non-apoptotic processes, FADD can regulate dephosphorylation, stability, and signal termination of cPKC.
Functions
FADD plays a role in regulating the cell cycle of T lymphocytes, and this regulation depends on the phosphorylation of FADD on serine 194 by casein kinase 1a (CKIα). This phosphorylated form of FADD is mainly present in the nucleus, and the abundance of phosphorylated FADD is significantly increased in the G2 phase of the cell cycle compared to the few G1 phases detected. As found on the mitotic spindle during G2, a mechanism that mediates the G2/M transition has been proposed, but the mechanism by which this mechanism is mediated is currently unknown.
Inflammation
Activation of nuclear factor κB (NFκB) signals results in the transcription of various pro-inflammatory cytokines and anti-apoptotic genes. It was found that NFκB signaling was inhibited in FADD-deficient cells after TNF-R1 or Fas receptor stimulation. This indicates the role of FADD in NFκB pathway activation. In contrast, FADD also has the effect of inhibiting this pathway. Generally, when the receptor TL4 or IL-1R1 is stimulated, the adaptor protein MyD88 is recruited to the plasma membrane and binds to the IL-1 receptor-related kinase (IRAK) through a DD-DD interaction. This activates the signaling pathway, causing NFκB to translocate to the nucleus and induce transcription of inflammatory cytokines therein. FADD can bind to MyD88 through its DD, thereby interfering with the interaction between MyD88 and IRAK, thus disrupting the cascade response, leading to NFκB translocation and inflammation.
References:
Kim, P.K.M.; et al. M Genomic structure and mapping of human FADD, an intracellular mediator of lymphocyte apoptosis. Journal of Immunology.1996, 157 (12): 5461–5466.
Huang B.; et al. NMR structure and mutagenesis of the Fas (APO-1/CD95) death domain. Nature. 1996, 384 (6610): 638–641.