Home / Press Release / The Important Roles of MBNL Proteins in the Pluripotency of Stem Cells
The Important Roles of MBNL Proteins in the Pluripotency of Stem Cells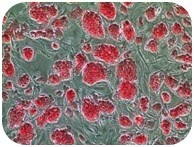 Induced pluripotent stem cells are a vital research direction for the future academic and medical application.
In past studies, scientists have paid much attention on the part of transcription, chromatin and non-coding RNA regulators of the pluripotency of embryonic stem (ES) cells. Alternative splicing represents a widely acting mode of gene regulation, but its role in regulating embryonic stem-cell pluripotency and differentiation is poorly understood.
Hence a team of scientists from multi-nations conducted studies to explore the key factor being important for the pluripotency. Through a serial of studies and tests, they identify the muscleblind-like RNA binding proteins, MBNL1 and MBNL2, as conserved and direct negative regulators of a large program of cassette exon alternative splicing events that are differentially regulated between ES cells and other cell types.
Knockdown of MBNL proteins in differentiated cells causes switching to an ES-cell-like alternative splicing pattern for approximately half of these events, whereas overexpression of MBNL proteins in ES cells promotes differentiated-cell-like alternative splicing patterns.
Among the MBNL-regulated events is an ES-cell-specific alternative splicing switch in the forkhead family transcription factor FOXP1 that controls pluripotency. Consistent with a central and negative regulatory role for MBNL proteins in pluripotency, their knockdown significantly enhances the expression of key pluripotency genes and the formation of induced pluripotent stem cells during somatic cell reprogramming.
The MBNL proteins can activate or deactivate stem cell pluripotency. Before fully understand the mechanism of stem cell pluripotency, the study finding brings more hope and lightens another direction.
Article Link: The Important Roles of MBNL Proteins in the Pluripotency of Stem Cells
Tags: MBNL1 cDNA Clone, MBNL2 Antibodies, Forkhead Box P1, Embryonic Stem Cells