Home / Press Release / Epidermal Growth Factor Receptor and Its Applications
Epidermal Growth Factor Receptor and Its Applications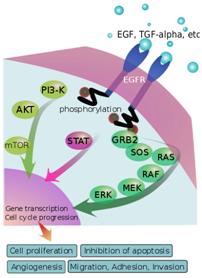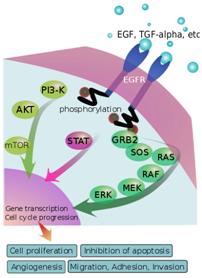 The discovery of growth factors won the Nobel Prize in Medicine in 1986, implying their importance. Epidermal growth factor receptor, EGFR, one of such factors, exists on cell surface and is activated by binding of its specific ligands.
EGFR is a member of the receptor tyrosine kinase family whose members play a critical role in oncogenesis. Mutations affecting EGFR expression or activity could result in cancers, as reported by more and more studies. In particular, EGFR has been shown to participate in lung, anal, glioblastoma multiforme and colon cancer development. Due to its role in the progression of various cancers, EGFR has become an attractive target for basic scientific studies and therapies. Hence EGFR antibodies and the tyrosine kinase inhibitors are used to try to suppress cancers.
In addition, EGFR has been shown to broadly interact with other proteins, such as AR, WAS, PTPRK, PKC, DCN, EGF, GRB14, JAK2, MUC1, CBL etc. Hence these proteins also become hot targets for basic scientific studies and clinical applications.
Creative BioMart offers thousands of monoclonal and polyclonal antibodies and conjugates validated for use in a variety of common applications including Western blot, flow cytometry, IHC, ICC, IF, IP, and more, as well as secondary antibodies, bulk production, and custom purification, formulations or conjugations.
Article Link: Epidermal Growth Factor Receptor and Its Applications
Tags: EGFR, AR, Antibodies
Related Press Release :