SUMO-tag Protein Production
Small Ubiquitin-like Modifier (or SUMO) proteins are a family of small proteins that are covalently attached to and detached from other proteins in cells to modify their function. As ubiquitin, SUMO is covalently linked to its substrates via amide (isopeptide) bonds formed between its C-terminal glycine residue and the ?-amino group of internal lysine residues. The enzymes involved in the reversible conjugation of SUMO are similar to those mediating the ubiquitin conjugation.
It has been found that SUMO as an N-terminal fusion partner enhances functional protein production in prokaryotic and eukaryotic expression systems, based upon significantly improved protein stability and solubility.In addition, the tertiary structure of the SUMO protein is specifically recognized and cleaved by a ubiquitin-like protein-processing enzyme, SUMO Protease resulting in the production of native protein.
SUMO-tag Protein Expression System developed by Creative BioMart utilizes SUMO to allow expression, purification, and generation of native proteins in both prokaryotic and eukaryotic expression systems. Following the expression and purification of the fusion protein, the SUMO-tag can be cleaved by specific (SUMO) proteases via their endopeptidase activity in vitro to generate the desired N-terminus of the released protein partner.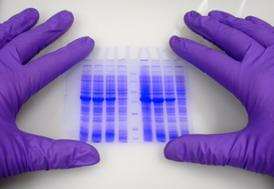 Advantages:
Tag design: SUMO tag
Purification: Immobilized metal ion affinity chromatography (IMAC)
Tag Removal: SUMO-tag removal is possible
Deliverable: Purified recombinant proteins
Quality Specification: Typically >90% purity by SDS page
Typical Timeline: 8-12 weeks
For more details, please contact us.
Contact us
or send an email at
for project quotations and more detailed information.
Online Inquiry
---