Calcium ions and ion channels
Calcium is the oldest and most versatile signaling substance in the cell and participates in regulating almost all biological functions of the body, such as heart and muscle contraction, neural information transmission, learning and memory, embryogenesis and development, cell proliferation and apoptosis Cell division and differentiation, cell energy metabolism, protein phosphorylation and dephosphorylation modification, gene expression and regulation, etc. The reason why this steep but tightly controlled concentration gradient of calcium ions inside and outside the cell membrane and between the cytoplasm and organelles is maintained and dynamically regulated according to the needs of the cell is through a variety of ion channels, ion pumps and transporters. Collaborative work. Although different cells have different specific mechanisms, the molecules involved in them generally include cell membrane and organelle membrane ion channels (which mediate calcium ions into the cytoplasm), cell membrane and organelle membrane transport proteins (including primary active transport and secondary transport , Transport calcium ions out of cells or into organelles), cytoplasm and organelle calcium buffer proteins (combined with stored calcium ions), etc. Abnormality in any of these links may cause instability of calcium homeostasis and cause disease.

Figure 1. Calcium ion pump. (From cella)
Transient receptor potential (TRP) channel
The TRP channel is a type of channel protein that is widely distributed in various organs and tissues. The TRP channel usually contains 4 subunits, and each subunit is a 6-time transmembrane protein, and its N-terminus and C-terminus are intracellular. The fifth and sixth transmembrane domains together form non-selective cationic pores, which are generally permeable to sodium, potassium, and calcium ions, but their permeability to calcium ions varies greatly depending on the subtype. These channels can be adjusted by various factors, including temperature, osmotic pressure, pH value, mechanical force, intracellular signaling molecules, and some endogenous or exogenous ligands. So far, more than 30 TRP channels have been cloned in mammals. According to the characteristics of gene homology, they can be divided into 6 families, including TRPC (canonical), TRPV (vanilloid), TRPA (ankyrin), TRPM (melastatin), TRP polycystin (TRPP), TRPML (mucolipin), etc. Each family has many subtypes. Some TRP channels can be composed of 4 subunits of different subtypes. These different subtypes and combinations of different subtypes are expressed in different organs and tissues and play different roles.

Figure 2. Similarities and differences between the topologic structure of selected TRP channels, representing the ankyrin (TPA1), canonical (TRPC3), melastatin (TRPM2), and vanilloid (TRPV1) subfamilies. (Nilius B, et al. 2014)
Ryanodine receptor (RyR)
RyR is one of the intracellular calcium release channels (the other is inositol triphosphate receptor, IP3R) present in the sarcoplasmic reticulum of muscle cells and other intracellular endoplasmic reticulum, and is the largest known membrane protein molecule. Each molecule contains the same four 560 ku subunits, which are combined into a square cation channel. There are three subtypes of RyR in mammals: RyR1 (skeletal muscle type), RyR2 (myocardial type) and RyR3 (brain type). FKBP (FK506-binding protein) is an important regulatory molecule that binds to RyR. The three-dimensional structure analysis of RyR1 shows that FKBP has a binding site of FKBP12 (also known as calstabin-1) on the cytoplasmic side of RyR. The main combination with RyR2 is FKBP12.6.

Figure 3. The proportion of Ca2+ absorbed by the mitochondria's reaction to arsenic is derived from RyR. (Guidarelli A, et al. 2019)
Inositol-1,4,5-triphosphate receptor (IP3R)
The endoplasmic reticulum is an important reservoir of calcium ions in cells, and IP3R is another family of calcium release channels that are widely present in various endoplasmic reticulums.When IP3R is combined with both inositol 1,4,5 inositol triphosphate and calcium ion substrate molecules, IP3R opens and calcium ions are released from the endoplasmic reticulum calcium pool into the cytoplasm. There are three subtypes of mammalian IP3R, including IP3R1, IP3R2 and IP3R3. IP3R1 is highly expressed in Purkinje cells of the cerebellum and is the most intensively studied subtype.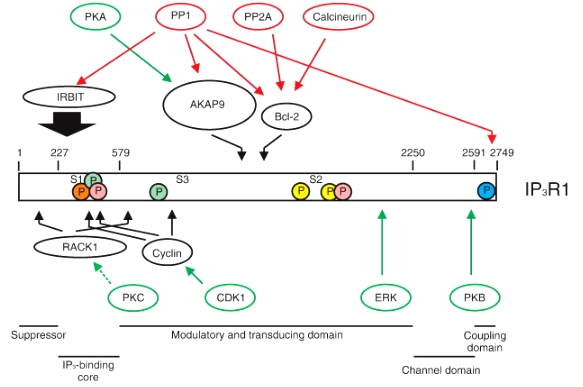 Figure 4. The structure of the IP3R1/Ca2+ -release channel showing the proteins and the sites involved in its regulation by phosphorylation/dephosphorylation. (Vanderheyden V, et al. 2009)
Store-operated Ca2+ entry (SOCE)
Cu-controlled calcium influx plays an important role in the regulation of gene expression, cell movement, secretion and immune response. In recent years, researchers have successively discovered and identified protein molecules involved in SOCE. The core proteins of SOCE include STIM (stromal interaction molecule) on the endoplasmic reticulum and Orai on the plasma membrane. STIM is the calcium receptor of SOCE. Unlike cell membrane calcium-sensing protein, which is a G protein-coupled receptor, STIM is a single transmembrane endoplasmic reticulum protein. When the endoplasmic reticulum calcium pool is exhausted, STIM can rapidly aggregate and move to the area opposite to the cell membrane to activate Orai to produce calcium influx. In mammals, STIM proteins have two highly homologous subtypes, STIM1 and STIM2, which are widely expressed in various organs and tissues. In different types of cells, the expression abundances of the two subtypes are different, and they can function by competitively combining Orai with each other.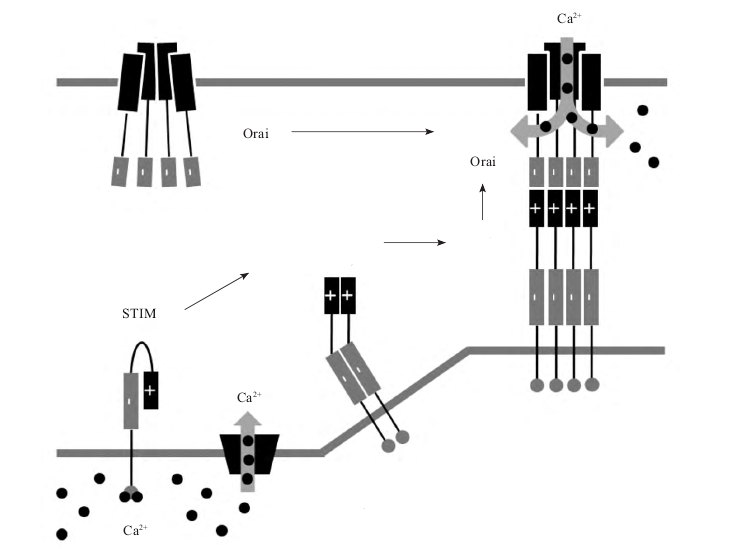 Figure 5. STIM senses the depletion of the endoplasmic reticulum calcium pool and accumulates, and activates the cell membrane Orai to produce a controlled calcium influx.
References
Nilius B, Szallasi A. Transient receptor potential channels as drug targets: from the science of basic research to the art of medicine. Pharmacological reviews, 2014, 66(3): 676-814.
Guidarelli A, Fiorani M, Cerioni L, et al. Calcium signals between the ryanodine receptor-and mitochondria critically regulate the effects of arsenite on mitochondrial superoxide formation and on the ensuing survival vs apoptotic signaling. Redox biology, 2019, 20: 285-295.
Vanderheyden V, Devogelaere B, Missiaen L, et al. Regulation of inositol 1, 4, 5-trisphosphate-induced Ca2+ release by reversible phosphorylation and dephosphorylation. Biochimica et Biophysica Acta (BBA)-Molecular Cell Research, 2009, 1793(6): 959-970.