Membrane lipids and enzymes
Membrane lipids play a vital role in many aspects of cell regulation, which is one of the most important advances in biomedical research in the past 30 years. The identification of many enzymes responsible for the critical reactions of bioactive lipid metabolism pathways often lags behind the continued stability and impressiveness of defining and responsible for the synthesis and inactivation of bioactive lipids and their metabolites. Progress. This is mainly because the responsible protein is usually tightly bound to the cell membrane, making it difficult to separate and to work biochemically. The activity of these enzymes usually depends on the physical form of their substrate. This is a particular problem for the determination of substrates solubilized with detergents, which is essential when used with enzymes that require membrane solubilization. Therefore, the identification of several important families of these lipid metabolizing enzymes is usually caused by a combination of hard work, chance, and originality, rather than protein sequencing, cDNA cloning, and the recent "traditional" methods of bioinformatics.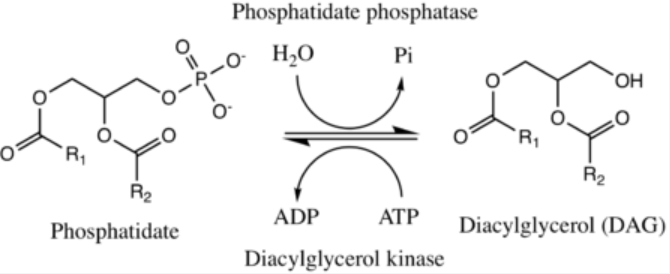 Figure 1. Reactants and products of the reaction catalyzed by the enzyme phosphatidate phosphatase, and thus also those of the reverse reaction, which is catalyzed by the enzyme diacylglycerol kinase. (From Wikipedia)
Lipid phosphate phosphatases (LPP)
LPP is a prototype member of the LPT family. These three mammalian enzymes, LPP1-LPP3, catalyze the divalent cation ion-independent lipid phosphate monoester, but they do not cleave the phosphodiester bond of glycerophospholipids. Although the analysis of the mixed micelles in the analysis system, the hydrolysis of lipid phosphate monoesters in the range of LPPS, including LPA, PA, S1P and C1P, has broadly similar activities. They do not hydrolyze phosphoinositide and phosphomonoester groups, nor do they hydrolyze soluble substrates such as glycerol 3-phosphate. Although LPPs can hydrolyze substrates together with BSA and have obvious enzymatic activity in biofilms, and when reconstituted into artificial lipid bilayers, they have significant activity on substrates dispersed in non-ionic detergent. The amino acid of C1 is unchanged, the C2 and C3 phosphatase motifs are completely conserved in these mammalian LPP enzymes, and the mutagenesis studies of Saccharomyces cerevisiae DPP1, LPP1 and LPP3 indicate that their catalytic mechanism is related to that of CPO. Compared with the highly selective SPP and SMS enzymes, what makes these enzymes have broad specificity for lipid phosphate substrates is currently inconclusive.
Figure 2. Lipid phosphatases and related proteins, Primary Sequence Relationships Between Lipid Phosphatase/Phosphotransferase Family Members. (Sigal YJ. 2007)
Distribution expression of LPP
LPP1 and LPP3 are widely expressed in human tissues, while LPP2 transcript levels are lower and more restricted. However, inspections in most tissues express all three genes, and these results are related to published analysis of RNA distribution within LPP and, where appropriate antibodies are available, protein expression. The cDNA encoding the obvious splice variants with obvious N-terminal sequence and truncated C-terminal of LPP1 and LPP2 have been preserved. Two of these cDNAs encode proteins without complete catalytic domains. It is unclear whether the proteins corresponding to these variant cDNAs are actually expressed, so the significance of these findings remains unclear. The subcellular localization of LPPS has been examined by overexpression of epitope-tagged variants in many different cell types. Proteins are mainly located in the endoplasmic reticulum and plasma membrane, and may be located in other endometrial compartments, including Golgi and endosomes. The increase in lipid phosphatase activity in intact cells is also consistent with the localization of the substrate applied to the plasma membrane as observed in cells overexpressing LPP1 and LPP3. Biochemical fractionation experiments indicate that LPP1 and LPP3 exhibit cell-specific localization in the detergent-resistant membrane domain, which is considered to represent lipid raft or cell membrane cave-like invagination. The recruitment of LPP to these membrane domains may be an important way to separate them from LPA or S1P receptors or lipid signaling enzymes, especially PC-specific PLD (phospholipidase D) enzymes, which are also present in the den and raft structure membrane.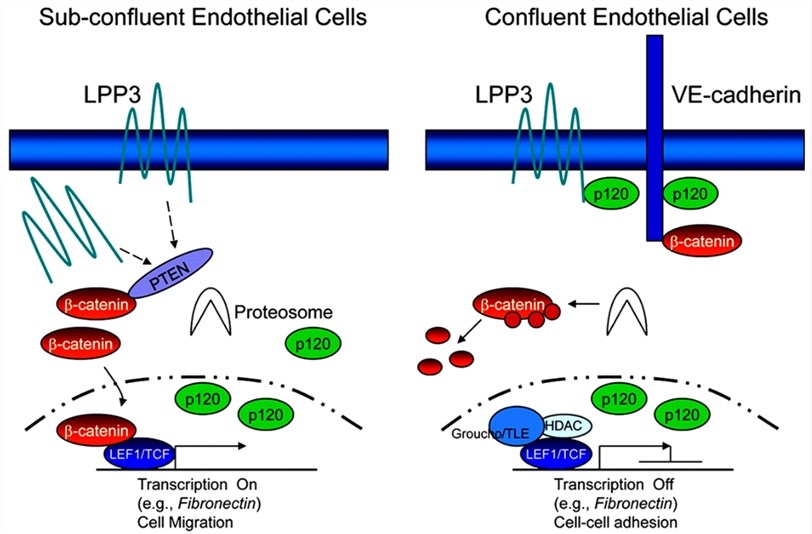 Figure 3. A model for LPP3-regulated β-catenin signaling in subconfluent and confluent ECs. (Sigal YJ. 2007)
Function of LPP
For LPP, two main functions have been proposed. They play a role in the regulation of intracellular lipid metabolism by controlling the balance between PA and DG, which has a significant effect on cell signaling and the synthesis of phospholipids containing choline and inositol. In this regard, the most interesting possible function of LPP in intracellular lipid metabolism and signal transduction may involve the hydrolysis of PA produced by PLD. In this case, LPP activity will hydrolyze the PA produced by PLD to terminate PLD signaling and at the same time form DG that can activate the lipid-reactive protein kinase C subtype. Secondly, due to its ability to localize to the plasma membrane in many cell types and their manifestations, as a function of dephosphorylated bioactive lipids and receptor-directed signaling extracellular enzymes, these organisms have proposed that LPPs active lipid mediators act as negative regulators of receptor guidance signals.The experimental data is largely based on overexpression studies, and to a lesser extent on loss-of-function experiments using antisense RNA and pharmacological inhibitors, supporting this view. The role of LPPS in the regulation of cell surface signals by lysophospholipid receptors has been discussed by others and will not be discussed further.
References
Sigal YJ, McDERMOTT MI, Morris AJ. Integral membrane lipid phosphatases/phosphotransferases: common structure and diverse functions. Biochemical Journal, 2005, 387(2): 281-293.
Sigal YJ. Lipid phosphatases and related proteins: from regulation of phospholipid metabolism to filopodia formation. 2007.
Humtsoe JO, Liu M, Malik AB, et al. Lipid phosphate phosphatase 3 stabilization of β-catenin induces endothelial cell migration and formation of branching point structures. Molecular and cellular biology, 2010, 30(7): 1593-1606.