High Mobility Group (HMG) Transcription Factors Proteins Background
High-Mobility Group or HMG is a group of chromosomal proteins that are involved in the regulation of DNA-dependent processes such as transcription, replication, recombination, and DNA repair.
Structure
The human HMGB1 gene is located on the 13q12 chromosome. The HMGB1 gene includes 5 exons and 4 introns. The HMGB1 gene has a very powerful TATA box promoter. Its maximum activity is 18 times that of the monkey virus 40 (SV 40) promoter. This promoter also includes several transcription factor binding sites, such as Activin 1 (AP1). In addition, a silencer element is included, so under normal environmental conditions, the expression level of HMGB1 is maintained at the basal level. Young rats still survive after HMGB1 knockout, but there are extensive morphological malformations that die more than within 24 hours of birth. The primary amino acid sequence of human HMGB1 contains 219 amino acid residues, and the mature HMGB1 has a molecular mass of 30 kDa. The HMGB1 protein consists of three distinct domains. Among them, A-box is located at the N-terminus, and its evolution is highly conserved; C-tail contains 30 repeating aspartic acid and glutamic acid residues at the carboxy terminus, which can be involved in regulating the binding affinity of HMGB1 to DNA; B-box is located at between the two. Both A-box and B-box are composed of three alpha helices with a strong positive charge that constitute the non-specific DNA binding region of HMGB1. After HMGB1 is released extracellularly, B-box is a functional domain that causes an inflammatory response, and A-box has a certain antagonistic effect on B-box.
Families
The HMG proteins are subdivided into 3 superfamilies each containing a characteristic functional domain:
HMGA – contains an AT-hook domain
HMGA is a class of high mobility group proteins characterized by AT-hooks. They encode "small, non-histone, chromatin-associated proteins with no intrinsic transcriptional activity, but can regulate transcription by altering chromatin structure." Mammals have two orthologs: HMGA1 and HMGA2.
HMGB – contains a HMG-box domain
Proteins containing HMG cassettes bind only to non-B-type DNA conformations (kinkling or uncoupling) with high affinity. The HMG-box domain is present in high mobility group proteins that are involved in the regulation of DNA-dependent processes, such as transcription, replication, and DNA repair, all of which require changes in the conformation of chromatin. Single- and double-box HMG proteins alter DNA structure by inducing bending upon binding.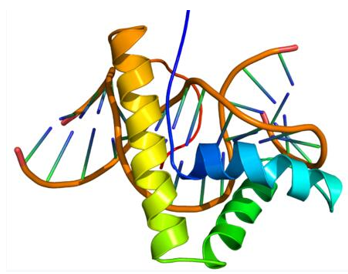 Figure 1. Structure of the HMG-box domain of the LEF1 protein based on the PDB: 2LEF coordinates.
HMGN – contains a nucleosomal binding domain
The HMGN protein is part of a broader proteome known as the High Mobility Group Chromosome (HMG) protein. This larger group was named this because of its high electrophoretic mobility in polyacrylamide gels and differentiated into three different but related groups, one of which is the HMGN protein. The HMGN family can be further divided into specific proteins, namely HMGN1, HMGN2, HMGN3, HMGN4 and HMGN5 (Figure. 2).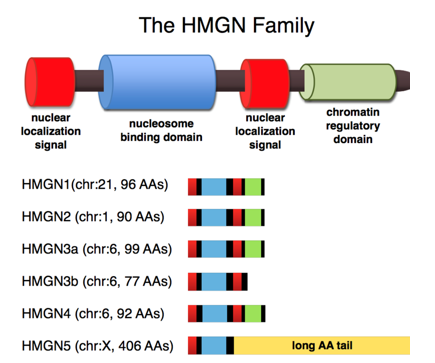 Figure 2. The HMGN family.
Function
HMG proteins are thought to play an important role in various human diseases. The disruption and rearrangement of genes encoding some HMG proteins are associated with some common benign tumors. Antibodies against HMG proteins have been found in patients with autoimmune diseases. The SRY gene on the Y chromosome responsible for male sex differentiation contains the HMG-Box domain. The HMG protein family member HMGB1 has also been shown to have extracellular activity as a chemokine, attracting neutrophils and mononuclear inflammatory cells to infected livers. High mobility group proteins such as HMO1 alter DNA structure by binding, bending and cyclization.
References:
1. Rajeswari MR.; et al. High-mobility-group chromosomal proteins, HMGA1 as potential tumour markers. Current Science. 2002,82 (7): 838–844.
2. Sitia G.; et al. Treatment with HMGB1 inhibitors diminishes CTL-induced liver disease in HBV transgenic mice. J. Leukoc. Biol. 2007, 81 (1): 100–107.