Basic Leucine Zipper (bZIP) Transcription Factors Proteins Background
Members of the gene leucine-zipper (bZIP) transcription factor superfamily bind to the target DNA duplex site as homodimers or heterodimers that recognize related but distinct palindromic sequences. The DNA binding domain of the bZIP transcription factor is the simplest known protein-DNA recognition motif and is a positively charged segment (base) linked by a heptad repeat with a leucine residue (leucine zipper) Sexual area) composition. The bZIP family dimer forms a chopstick-like structure by dimerization of its leucine-zipper segment, and each basic region segment contacts half of the palindromic site in the DNA major groove. The bZIP transcription factor is an effector of mitogenic stimulation, stress response (oxidation, ER, heat) and cytokine stimulation downstream. In addition, the bZIP transcription factor family affects several developmental processes, including dendritic cell development, bone marrow differentiation, and brain and eye development.
Leucine zipper
Leucine zippers (or leucine scissors) are three-dimensional structural motifs commonly found in proteins. They were first described by Landschulz and co-authors in 1988, and they found that the enhancer-binding protein has a very characteristic 30 amino acid segment, and these amino acid sequences are shown on the idealized alpha helix to show every seven periodic repeats of leucine. The residue position covers the distance of the eight spiral turns. A polypeptide fragment containing a periodic array of these leucine residues is presented in an alpha-helical conformation, and the leucine side chain from one alpha helix crosses the leucine side chain of the alpha helix from the second polypeptide to promote dimerization.
Sequence and structure
Leucine zippers are produced by dimerization of two specific alpha helix monomers that bind to DNA. bZIP interacts with DNA via basic amine residues (see the basic amino acids for certain amino acids in the "basic" domain (providing a table (sorted by pH)), such as lysine and arginine. The leucine zipper is formed by the amphiphilic interaction between the two ZIP domains. The VIP domain is present in the alpha-helix of each monomer, and containing leucine or leucine-like amino acids. The amino acids are separated by the polypeptide sequence in each region such that when the sequence is coiled by the 3D alpha-helix, the leucine residues are arranged on the same side of the helix. Containing aligned leucine - known as the ZIP domain, leucine from each ZIP domain can weakly interact with leucine from other ZIP domains, reversibly binding their alpha-helix.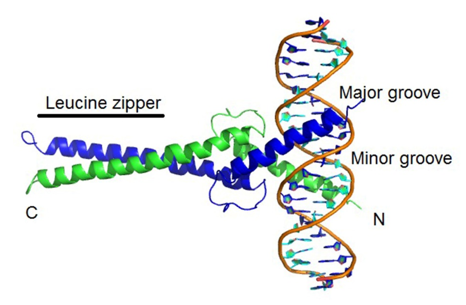 Figure 1. Another DNA binding domain, the Helix-loop-helix (HLH) dimer, is shown bound to DNA fragment — each alpha helix represents a monomer.
bZIP domain containing proteins
AP-1 transcription factor
Activin 1 (AP-1) is a transcription factor that regulates gene expression in response to a variety of stimuli, including cytokines, growth factors, stress, bacterial and viral infections. AP-1 controls many cellular processes, including differentiation, proliferation, and apoptosis. The structure of AP-1 is a heterodimer composed of proteins belonging to the c-Fos, c-Jun, ATF and JDP families.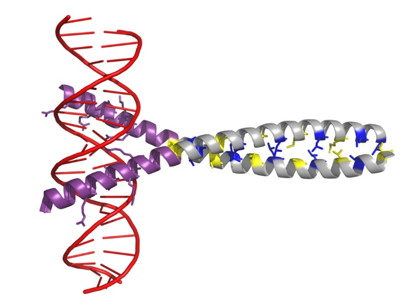 Figure 2. Crystal structure of c-Fos:c-Jun heterodimer and DNA complex (PDB: 1FOS).
Jun-B transcription factor
Transcription factor jun-B is a protein that in humans is encoded by the JUNB gene. Transcription factor jun-B is a transcription factor involved in regulating gene activity following the primary growth factor response. It binds to the DNA sequence 5'-TGA[CG]TCA-3'.
CREB-cAMP response element transcription factor
CREB-TF (CREB, cAMP response element binding protein) is a cellular transcription factor. It binds to certain DNA sequences known as cAMP response elements (CRE), thereby increasing or decreasing transcription of the gene. CREB was first described in 1987 as a cAMP-responsive transcription factor that regulates the somatostatin gene. Genes that are regulated by CREB include: c-fos, BDNF, tyrosine hydroxylase, many neuropeptides (such as somatostatin, enkephalin, VGF, corticotropin-releasing hormone) and participate in mammalian biological clocks (PER1, PER2) gene. CREB is structurally and functionally related to CREB (cAMP response element modulator) and ATF-1 (activated transcription factor-1) proteins. CREB proteins are expressed in many animals, including humans. CREB has a well-documented role in neuronal plasticity and long-term memory formation in the brain and has been shown to be indispensable in the formation of spatial memory. Down-regulation of CREB is associated with the pathology of Alzheimer's disease, and increased expression of CREB is considered a potential therapeutic target for Alzheimer's disease. CREB also plays a role in mammalian light induction.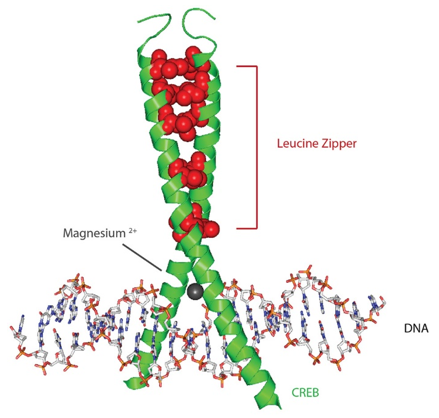 Figure 3. CREB (top) is a transcription factor capable of binding DNA (bottom) and regulating gene expression.
Bzip Maf transcription factors
bZIP Maf is a domain found in Maf transcription factor proteins. It contains a leucine zipper (bZIP) domain that mediates the dimerization and DNA binding properties of transcription factors. The Maf extended homology region (EHR) is present at the N-terminus of the protein. This region exists only in the Maf family and allows the family to recognize longer DNA motifs than other leucine zippers. These patterns are called Maf recognition elements (MARE) and are 13 or 14 base pairs in length. In particular, two residues at the beginning of the helix H2 are located to identify the flanking regions of the DNA. The small Maf protein is heterodimerized with Fos and acts as a competitive repressor for the NF2-E2 transcription factor.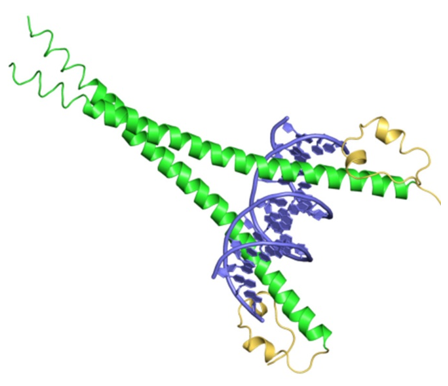 Figure 4. Crystal structure of the MafA homodimer bound to DNA. PDB entry 3a5t
References:
1. Landschulz, W. H.; et al. The leucine zipper: A hypothetical structure common to a new class of DNA binding proteins. Science. 1988, 240 (4860): 1759–1764.
2. Vinson, C. R.; et al. Scissors-grip model for DNA recognition by a family of leucine zipper proteins. Science.1989, 246 (4932): 911–6.